Theft Prevention Wellhead & X-mas Tree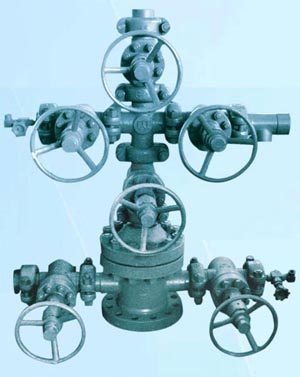 The function of theft prevention of Model FDKY6S-21 theft prevention wellhead equipment is achieved by adding theft prevention valves and lock to the side outlets beside wellhead cross. Theft prevention lock Is installed In the side outlet bore under the condition of normal production. When work over operation is needed, users have to unlock and dismantle the theft prevention lock at first.

For some workover operation, testing tool must be connected to the side outlet by thread connection before unlock the theft prevention valve. But for some other workover operation such as well washing, users do not need to connect the testing tool.

Both the valves and polished rod stuffing box have theft prevention function, open and close operation must be performed by special-used wrenches
Please click here to check the parameters, or contact us for more information.
1. Water lnjection Wellhead and Christmas Tree

High pressure and water injection wellhead for increasing water-absorbing capacity of oil product is often sewage with high degree of mineralization and high temperature ,we gave fully account of its anticorrosion capacity as well as its applicability and reliability in design and manufacture.
Please click here to check the parameters
2.High Pressure and Anti-sulfide Wellhead & X-mas Tree

The product is mainly used for deep or ultra deep wells or high pressure wells with hydrogen sulfide, or as completion wellhead equipment, it also meets the special technical requirements of high pressure acidization and fracturing operation, etc. In addition to the safety and reliability, complexity of recovery and workover technics and convenience of operation are also taken into account. Its main component, plate valve has advantages such as reliable in sealing and small in open and close torque.
Please click here to check the parameters