Stabilizers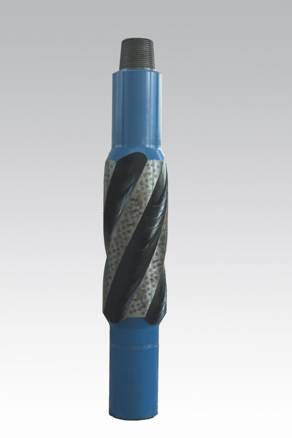 Stabilizers are made from premium chrome molybdenum alloy steel (except for non-magnetic style). These stabilizers undergo special heating procedure in order to obtain the expected hardness, strength and impact value properties. All threads are made strictly in accordance with the API specifications. The hard banding of stabilizers employs "pressed in" Tungsten Carbide alloy buttons and other anti-wear materials. They are all are ultrasonic tested.
We offer a wide variety of stabilizers according to the API Spec. All drilling stabilizers can be highly customized according to the customer's requirements. They may choose from different sizes, shapes as well as the types of hard facing.

Our company manufactures 7 kinds of stabilizers as listed below:
Integral Blade Drill Stabilizers (3 different types)
Replaceable Sleeve Drill Stabilizer (3 different types)
Non-Rotating Drill Stabilizer
Float Valve Drill Stabilizer
Variable Diameter Drill Stabilizer
Unbalanced Spiral Blade Drill Stabilizer (2 different types)
Spherical Drill Stabilizer
lease click here to check other kinds of stabilizers and their parameters, or contact us for more information.