Drill Pipe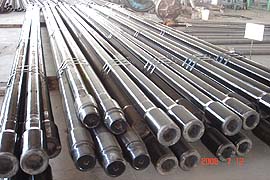 We sell various high- quality drill pipes at very competitive prices. Our drill pipes are in accordance with API Spec 5D and Spec 7. We offer different drill pipe sizes ranging from 2 3/8 to 6 5/8 inches. The steel grades of our drill pipes are E75. X95. G105. and S135. Our high-grade drill pipes include anti-sculptor drill pipe and high anti-torque drill pipe with double-shoulder tool joints.
Our integral heavy weight drill pipes are made with AISI 4145 alloy steel and fully heat treated.

We have two kinds of heavy weight drill pipe: standard integral heavy weight drill pipe and spiraled integral heavy weight drill pipe.
Please click here to check the Drill pipe parameters, or contact us for more information.