Petroleum Machinery
PDM motor tester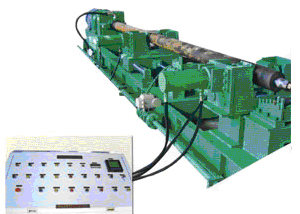 The PDM motor tester we manufacture is special equipment for testing sealing performance of new and repaired PDM motors. It enables users to test whether the PDM motor is suitable in a particular geographical location or not. Moreover, it provides scientific evidence that can assure the success of the PDM motorí»s performance in specific geographical environments. The tester consists of a body, water supplying system, a hydraulic system and a control system.
With some advantages such as high automatization, easy operation, wide range of use, the PDM motor tester has already obtained favorable comments from our customers.
Technical parameters for PDM motor tester
Body motor power: 75KW
Motor power for hydraulic pump: 11KW
Driving rotation speed: 40r/min
Applicable drill tool size: dia 89~ dia 245
Water supply system working pressure: 8Mpa
Max. Working pressure for hydraulic system: 20Mpa.
Hydraulic Bucking Unit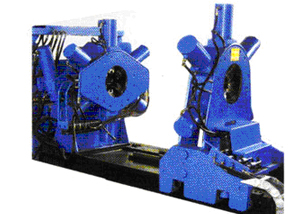 The hydraulic bucking unit is important equipment for the make-up/break-out, repair of all kinds of tools such as drill tools, pipe stems and downhole tools for petroleum and geological prospecting industries.
In terms of our design engineering, we have obtained pieces of state patented protection rights, state certificate for new product and High-tech certificate of provincial grade. We have also gotten various scientific technology awards for state and provincial grades. It holds some advantages such as high automatic function, big make-up/break-out. it also has quick make-up/break-out and axial pulling. The bucking unit has gained good reviews from customers both domestic and abroad; and it has been exported to many countries and regions.
Please click here to check the hydraulic bucking unit parameters, or contact us for more information.
Hydraulic Jar Tester
The hydraulic jar tester is a necessary tool to test tensile strength and pressure performance of jars, jar intensifies, shock absorbers and thread connections. The hydraulic jar tester is designed and manufactured by integrating the advanced technology of same equipments abroad and the actual situation of petroleum industry in China. Advantages of this tester includes: easy and steady operation, big push/pull tonnages, high safety feature.
Technical parameters for hydraulic jar tester
Motor power: 15KW, Speed 1460r/min
Max. working pressure: 25Mpa
Oil tank volume: 400 liter
Working medium: 30# abrasive hydraulic oil
Testing length: 1m-10m
Oil cylinder stroke: 1m
Max. push force: 150 tons
Max. Pulling load: 130tons